Engineered to be a luxurious and exclusive means of transportation for passengers, the first limousine was introduced over a century ago, in 1902. This prestigious vehicle has become more and more sophisticated throughout the years, enhancing both its lavishness and comfort. Nowadays, limousines are widely available in various sizes and shapes, accommodating 2 to more than 50 people. With a perfect fusion of timeless elegance and the latest cutting edge technologies, limousines are the most stylish way to hit the road.
Here is an overview of the different types of limousines you can choose for your next luxury trip.
#1. Whimsical Limousines for the Perfect Night Out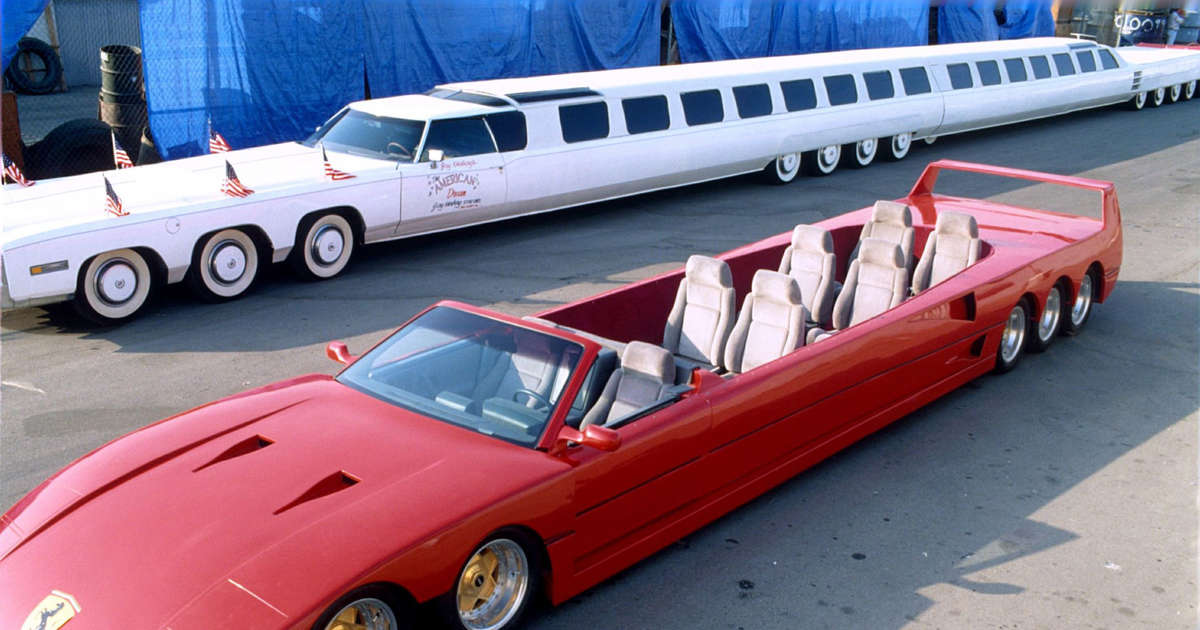 Whether it's a party, casino night, or prom, some people go out of their way to make their special night as memorable as possible. If that matters to you, forget the fancy taxi or the regular limousine, find the most amazing tires you can get – cars like these guarantee that the next day you'll definitely be trending on social media!
#2. Boeing 727 Limousine
While flying to a party would be great, that could be logistically problematic; So here's the best alternative: a Boeing 727 limousine. This beast is mounted on a Mercedes bus chassis and can take you and 49 of your closest friends on the best of party planes. It has a sunken room with a dancing floor, a smoke machine, a large TV screen, and a full bar (which does not have alcoholic beverages, of course). Hopefully, the driveway where the party will take place will be over-sized – this non-flying limousine is 53 feet long.
#3. Kaz Limousine
Ideal for environmentalists, the Kaz limousine has the power that comes from its six electric motors – one in each tire. If you've already done the correct math, that means this odd-looking vehicle has a six-wheel drive and a total of eight tires. We wouldn't call her attractive, but Kaz would definitely stand out in a crowd. And it's going to get you to the party real fast – those six engines total 600 horsepower and give this limo a top speed of 193mph.
#4. ITV Tank Limousine
Nobody will try to get in your way if you go to a party in one of these babies. Rare to find but popular all over the UK, the Tank Limo is made from two armoured personnel carriers and has a big gun on top (we think it doesn't work – that's what we hope). The interior is not exactly luxurious but has a refrigerator with smoked glass, twin DVD players, and they say they will add a hot tub soon. So, whether you're a high school student going to prom, planning your wedding with a military background theme, this is the best option!
#5. Gothic Limousine
If you're the goth type and don't want to be too strawberry at a night party, this limousine is for you. This 1972 Cadillac hearse was initially ordered by rock band Rob Zombie and still wears the album cover on the side. Since it became a limo, it has sported a custom-built front grill that lights red lights at night, an exhaust system that shoots flames, skeleton hands that hold drink flutes in a cold bucket, a machine that produces smoke and blue interior lights. It also has a thunderous 7.7-litre eight-cylinder engine under the hood.
#6. Formula 1 Limousine
You definitely don't want to be late for a party if you're going to do it in this race car turned limo. It has no bar, no leather seats, no Jacuzzi, or other luxury finishes, but this open-wheel limousine can carry up to six passengers at a speed of 60mhp in just five seconds can reach a top speed of 140mph. Let's face it; this elongated racecar could make the trip to the party more exciting than the party itself!
#7. Monster Truck Ford F-350 Limousine
Here's a vehicle for a night party that's as wide (and long) as the Texas sky. If you were looking for a great way to head to the party with 19 friends, rolling this elongated F-350 Monster Truck would do it. In addition to offering plenty of room for your party buddies, the cargo bed in the rear can also accommodate any extra people you want to take to the big dance. Maybe twenty pairs of cowboy boots?
#8. Hippie Limousine
Rather than looking for luxurious transportation, an underrated option is ready. The Hippie Limousine doesn't have a minibar, it doesn't move fast, and it may have some trouble earning some respect, but the mint condition of this VW Minibus is undoubtedly a classic. Its five-foot-long canvas roof opens and allows enough air to enter while offering a great view of the stars. While we wouldn't want people to travel without wearing seat belts, you could say hello from the top of the Hippie Limousine upon arrival at the big event.
#9. Chevrolet Corvette Limousine
Whether in an amazing sports car or a stretch limo, arriving at the event will definitely turn heads – so why not both? This Corvette limousine has been lengthened to carry ten passengers and is fully equipped with a dancing floor, bubble tanks, an electric fireplace, and a DVD player with four flat screens. When you arrive, you and your entourage can make a grand entrance through the large gull-wing doors.
Want to hire a deluxe limo for your special day in GTA? Get in touch with MAK LIMOUSINE SERVICES today and have the time of your life!